---
Our next match will be this weekend,
Sunday, March 7.
---
Fire & Ice 2021

– February 20 & 21, 2021 is history.
Final scores may be found HERE.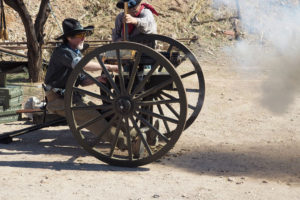 Champ, throwing a few BIG rounds downrange!
Gun courtesy of the Last Outpost Gatling Gun Crew.
(Click image for a larger version)
---
We were blessed with perfect weather February 13 & 14 for the 2021 Arizona State Wild Bunch Championship.
Final scores may be found HERE
We hosted 39 of the most competitive Wild Bunch Shooters in the area. The AZ State Winners this year are:
| Category | 2021 Winner! |
| --- | --- |
| Ladies Modern | Shotgun Shannon |
| Ladies Traditional | Barbwire |
| Ladies Senior Modern | Claudia Feather |
| Men's Traditional | Zona |
| Men's Modern | Pleasant Valley Kid |
| Men's Senior Modern | The Butcher |
| Men's Senior Traditional | Dahoney |
---
WINTER hours are in effect – Registration is at 8AM and Hammers down at 9AM
---
GO HERE for 2021 Schedule & Match Results
---
WE ARE A PRIVATE RANGE
MEMBERS ONLY
NO TRESPASSING
NO JACKETED AMMO – LEAD ONLY
 Shooting a steel target with jacketed ammo causes pits and holes in the target. This will cause dangerous ricochets and endanger our shooters.  Only SASS competition approved firearms are allowed on the Cowtown Cowboy Shooter's Range.
See the Cowtown Range on the North side
of the mountain for public range time.
---
SAFETY ALERT!
This is the desert. Rattlesnakes,
scorpions, tarantulas and chuckwallas live here. Please watch were you put your feet and hands.

DO NOT enter the west gate of the shooting range past the cowboy range!
  This is the SNIPER RANGE!